Sales Force Automation(SFA) is a technique of using software to automate the business tasks of sales, order processing, contact management, information sharing, inventory monitoring and control, order tracking, customer management, sales forecast analysis and employee performance evaluation. Sales Force Automation is often used interchangeably with Customer Relationship Management(CRM); however, CRM does not necessarily imply automation of sales tasks.
Sales Force Automation software allows to standardize company's sales processes and activities, from lead to quote to conversion, along with reporting and efficiency analysis. This system can collate numerous sales records in minutes. Sales force automation software can fast track sales cycles to make sure organisations meet their goals with efective and efficient approach.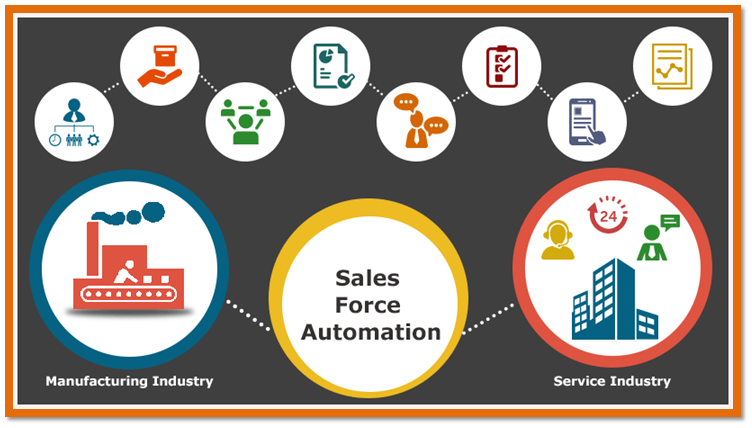 The core package of SFA softwares comprises of modules such as :
Sales Automation
Marketing Automation
Opportunity Management
Reporting
Workflow Management
Email Management
Database Management
E-Commerce
Deployment Environment
Benefits :
Sales report generation - Using this software allows users to organize and track collections, pending payments and returns. With this, it will be a lot easier for them to come up with sales reports. Managers do not have to do everything manually. In addition, the system helps them determine where they have to improve their sales and when to follow up. With the report generated, they will be able to make appropriate plans for the future such as promotions.
Avoids bad scheduling - With a good sales force automation system, managers can also create and keep track of their appointments. The software has the capability to remind them of their appointments so they will not miss them. This allows managers to improve their relationships with their business partners, customers and employees.
Centralized tracking of Customer Information - These systems allow managers to take note of any changes addressed by customers in the details initially provided. With this, they will be able to follow up on customers using the latest information. If there are calls involved, the system will also keep track of them and store the details for easy access in the future.
Easy sales forecast - The system allows users to track customer behaviors and market swings. With this, the software will keep, store and analyze all information that will be vital in coming up with sales forecasts.
Types of Buyers :
Basic Buyers - Such buyers want the core contact-management basics in the quickest, easiest and least-expensive fashion. They tend to be small businesses and very cost-conscious, need the most basic functionality of contact management, require no integration and have no internal support.
Fast Featurists - These buyers like to take advantage of advanced functionality of this system without doing a complicated implementation. They tend to be small to medium-sized sales organizations, like more advanced functionality and need the option of some basic integration. They have limited internal support.
Enterprisers - Such buyers need to focus on integration and scalability. They tend to be medium-sized companies to large enterprises with complex business processes, need advanced functionality, require advanced data and systems integration and have full internal support resources.
Verticalists - These buyers need features unique to their industries that may trump other concerns. They tend to be industries with specialized selling and servicing models (e.g., real estate) or have to meet stringent regulatory or compliance issues (e.g., health care). Industries include channel vendors, health care, financial services and real estate.
Potential Issues faced :
There are several issues for buyers while selecting the right software for their problem. Determine company's specific needs and wants by collecting, prioritizing and weighting sales processes and mapping those business processes to business software feature sets.
The users must insure to include representatives from across respective sales force, both in the main office and those scattered throughout branches or remote offices.
Market Trends followed :
As you evaluate SFA Software packages, consider these current market trends :
Software-as-a-Service(SaaS) - Software as a service (SaaS) is a software distribution model in which a third-party provider hosts applications and makes them available to customers over the Internet. SaaS is one of three main categories of cloud computing, alongside infrastructure as a service (IaaS) and platform as a service (PaaS). SaaS is picking up speed as buyers realize the advantages of lower upfront costs and quicker implementation time.
Mobile apps - Mobile applications are gaining popularity across the board, and accounting is no exception. Check to see how each vendor is innovating on this front.
Increased Specialisation by Industry - Increasingly consumers are demanding more industry specific features and vendors are listing. Products that were once with centralised database are now equipped with cloud based computing systems. Use of POS systems are playing essential roles in the SFA systems.
Business Intelligence - Business intelligence collects the data of every transaction and generates an automatic analysis report designed to support business improvement and grace in its pace. Many vendors are now integrating business intelligence into their SFA software.